Best Drones Under 150 Dollars Reviewed For You – Affordable Drones For Beginners.
Drone flying has emerged as one of the most popular hobbies in the recent past. Ever since drones have become more commercialized, more people are willing to try their hands at flying a quadcopter.
Aerial photography, especially for vlogs and travelogues, has added another dimension to the drone industry. You can buy those advanced featured drones with camera for $1000 or less.
If you are still in your learning phase and are looking to buy an economical drone either for hobby flying or to bush up your photography game without spending too much, there are some great options available under the 150 dollar price tag.
Many of these drones have decent quality, impressive camera, and some intelligent flight features.
Here is the list of best drones under 150 dollars reviewed for you.
Ryze Tech Tello by DJI – 13 Minutes Flying Time
Altair Aerial 818 Hornet – Amazon's Choice
Holy Stone HS270 – 2.7K Drone with Full HD FPV Live Camera
Altair Aerial AA108
Simrex X11 – Best FPV Drone For Under 150
Holy Stone HS165 – Foldable GPS Drone Under 150 Dollars
DBPOWER U818A – Best Drone Under 150 With Camera
Holy Stone HS110G GPS Drone – Long Range Drone Under $150
Snaptain SP500 – 30 Minutes Flying time
Comparison Chart For Best Quadcopter Drones Under $150
---
We have made a series of drone buying guides to help our readers to find the best drone under their budget.
7 Best Drones Under $150 (You are here)
---
Key Features
720p HD Video
5 Megapixels Camera
13 minutes of flying time
87 grams only
Ready to fly
VR Headset compatible
Easy to perform stunts
Auto Takeoff/Landing
If you are looking for the best cheap and easy to fly quadcopter drone under 150 dollars, the DJI Tello is the one. This amazing drone has more than 1300 5-Star reviews on Amazon.
Design
The Tello drone already makes a good impression at first glance. The white cover on the drone body and the gray-colored propellers and guards make the Ryze Tech Tello look a lot like the DJI Spark. It is a miniature among all DJI drones. The dimensions are 98 x 92 x 41 millimeters, a weight of just 80 grams, and 3-inch propellers
Every component of the Tello drone from Ryze Technology is durable and high-quality. DJI Tello is already fully pre-assembled ready to fly drone as the propeller guards are already attached. The propellers on the Tello can be swapped out by simply removing them and sliding them onto the rotors.
Features
Beginners and novices alike quickly get used to the Tello and rejoice in a stable hover without manual intervention. Its vision positioning system is also a plus. Like other DJI camera drones, it allows obtaining exact flight conditions thanks to infrared and an additional camera. Thus, the DJI Ryze Tello can be maneuvered with great precision despite the absence of GPS.
It has a maximum flying speed of 28 kilometers per hour and a maximum flight altitude of ten meters. In the distance, it can manage distances of up to 100 meters. As the weight of the Ryze Tech Tello is less than 250 grams, no drone license plate is needed.
You can fly this mini drone in two modes. By default the slow mode is enabled but you can always switch to the fast mode. You can to easily upload your videos and pictures to social networks from your iPhone or iPad.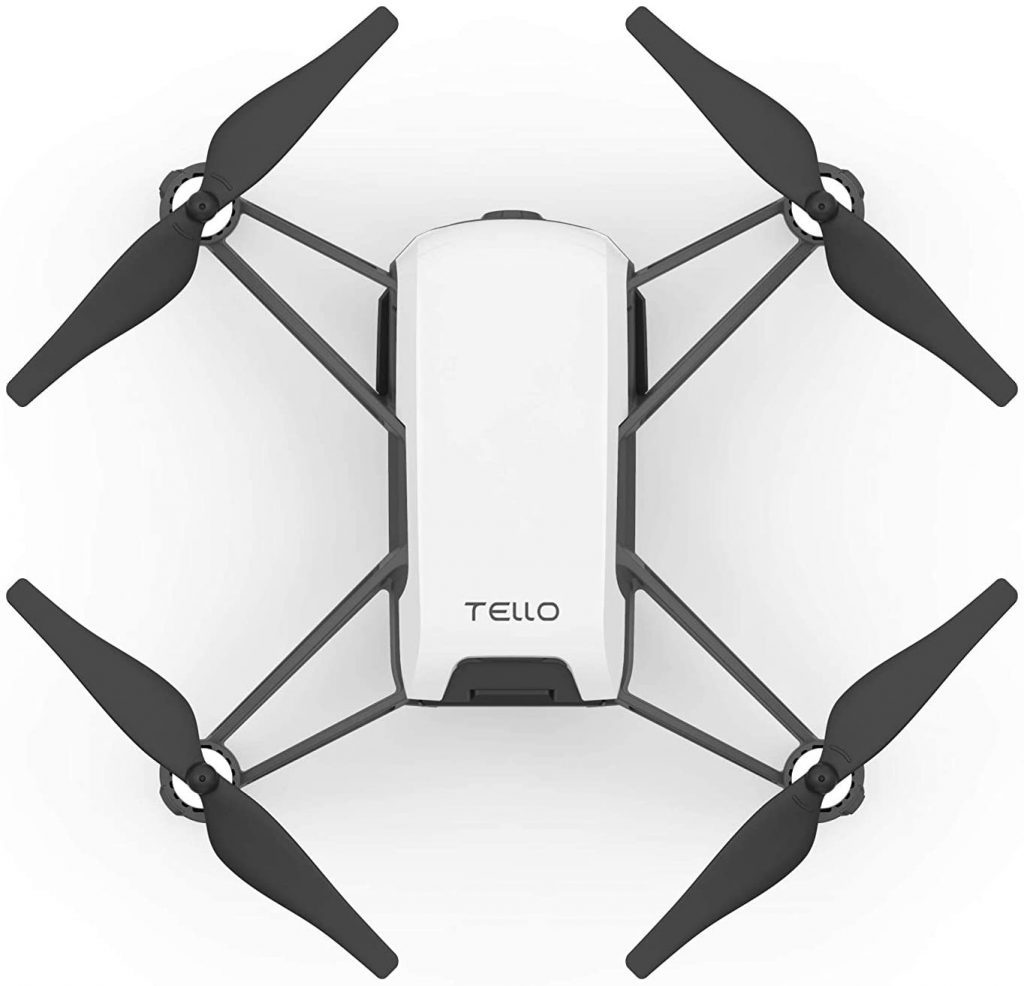 Camera
On the camera side, the Tello uses a 5 megapixel camera with an HD video resolution of 1280 x 720 pixels at 30 frames per second. The maximum image size is 2592 x 2936 pixels.
The Tello captures satisfactory images depending on flight skills. You shouldn't expect too much, but despite having a 5-megapixel camera, the Ryze Tello is quite capable.
Battery
The Tello comes with three modular batteries, and each battery supports a flight time of 13 minutes. That means you can fly it for around 35 – 40 minutes
Key Features
720p HD camera
Extended flying time of 30 minutes
Easy to fly for beginners
VR Headset compatible
Multiple speed levels
One-key take-off & land
Live FPV Video
Affordable Price
Design
The Altair 818 Hornet is one of the coolest quadcopter drones in the market when it comes to design. The drone requires some basic assembly, which can be easily done by simply attaching the propellers, landing gear, and the camera. The instruction manual is straightforward to follow.
Features
It is an extremely beginner-friendly drone along while cheap at a price. The design has incorporated almost all basic features that a newbie would want to have in his drone during the learning process. It is one of the best drones for teenagers.
Altair 818 hornet drone integrates with an app quickly, and the entire process is very smooth if you have a stable Wi-Fi connection. The app facilitates the FPV feature, which can also be viewed in VR. The one-touch take-off and landing feature makes it very easy to handle for kids and new users.
The drone has different flight modes and speed levels, which you can experiment according to your proficiency level. The altitude hold feature is a perfect addition for those who wish to use this drone for aerial photography.
Camera
The Altair Aerial 818 Hornet is equipped with a 720p HD wide-angle camera that gives crisp and clear photos and videos. It also facilitates First Person View with a transmission range of 60 meters.
The camera also supports a Class 10 SD card of up to 32GB. However, you need to purchase the SD card additionally.
Remote Controller
One of the major problems that most new users face is getting the hang of the controller. It can be frustrating to refer to the manual every time you are confused about the functions of each button on the controller.
The 818 Hornet addresses this issue by providing a cardboard sheet fixed on top of the controller, labeling every button. This makes it super easy for learners to know what they are doing. The cardboard sheet is easily removable for those who do not need it.
Battery
The drone comes with two batteries included in the package, each having a flight time of 15 minutes. That means that you can fly your drone for 30 minutes in a go, which is quite impressive for a drone that clocks at 150 bucks.
3: Holy Stone HS270 – Best Video drone Under $150
Key Features
2.7k Full HD camera
18 minutes of flying time
Voice recording
Foldable Design
Live FPV Video Transmission
600 meters long range
Return to home
Design your flying path
Design
Although Holy Stone HS270 is designed to be an entry-level drone, it offers you the aesthetics of a professional drone along with a design and features that will allow you to enjoy your flight experience.
The drone itself is very sleek and compact. The foldable design makes it even smaller making it very easy to carry while traveling. The high-quality polycarbonate plastic exterior with grey coating does not make it look like a cheap toy drone.
The built also adds to the strength and makes it crash resistant in case amateur pilots ending up rough flights and landings.
Features
The Holy Stone HS270 is equipped with powerful brushless motors that make it more battery efficient and less noisy. The controller is impressively responsive, and the controller layout pays attention to the fact that the beginners will use it.
The drone is equipped with some fantastic flight options such as Follow Me, Auto Hover, Automatic Takeoff and Landing, and Custom Flight Path. These features allow users to bring in more variation and thrill in their flight experience.
Camera
The HS270 is equipped with a decent 2.7K camera with a live FPV transmission range of up to 400 meters. Since the drone is designed for great wind resistance, the visual output is much more transparent and crisp. It is the best budget video drone with a live feed.
The camera has a 90-degree adjustable lens that allows you to capture a broader area. The camera supports an SD card for storage, which is needed to be purchased additionally.
Battery
Although the HS270 battery offers an impressive 18 minutes of flight, the battery charging time of 6 hours is very long. This makes the flight recharge ratio very poor and can undoubtedly be improved.
4: Altair Aerial AA108 – Best $150 Quadcopter Drone For Kids
Key Features
720P HD camera
Design your flying path
2 Batteries
Live Video Transmission
Out of range Alarm
Low battery alarm
Durable built quality
Design
Altair Aerial AA108 has the capability to please beginners and pro drone flyers at the same time. This camera quadcopter for less than 150 bucks has excellent built quality. It is ready to fly as soon as it is out of the box. The best thing about this drone is you can fly it indoors and outdoor.
Features
This Altair Quadcopter is easy to fly and has headless mode, altitude hold option, and a single key takeoff and landing. AA108 offers a stable flight and durable construction for long-lasting fun. Moreover, It also supports Virtual Reality (VR Glasses) mode.
The package includes advanced remote control; therefore, no smartphone is required to fly it. Furthermore, it has out of range alarm, emergency landing function, and low battery alarm to keep the pilot and your Altair drone safe.
Besides, it provides all the features of a high-end drone in 3 different skill levels, so it has something for you whether you are a first-timer or flight master. It also has a customizable route mode. You can draw a flying path using your smartphone, and the drone will fly along your route.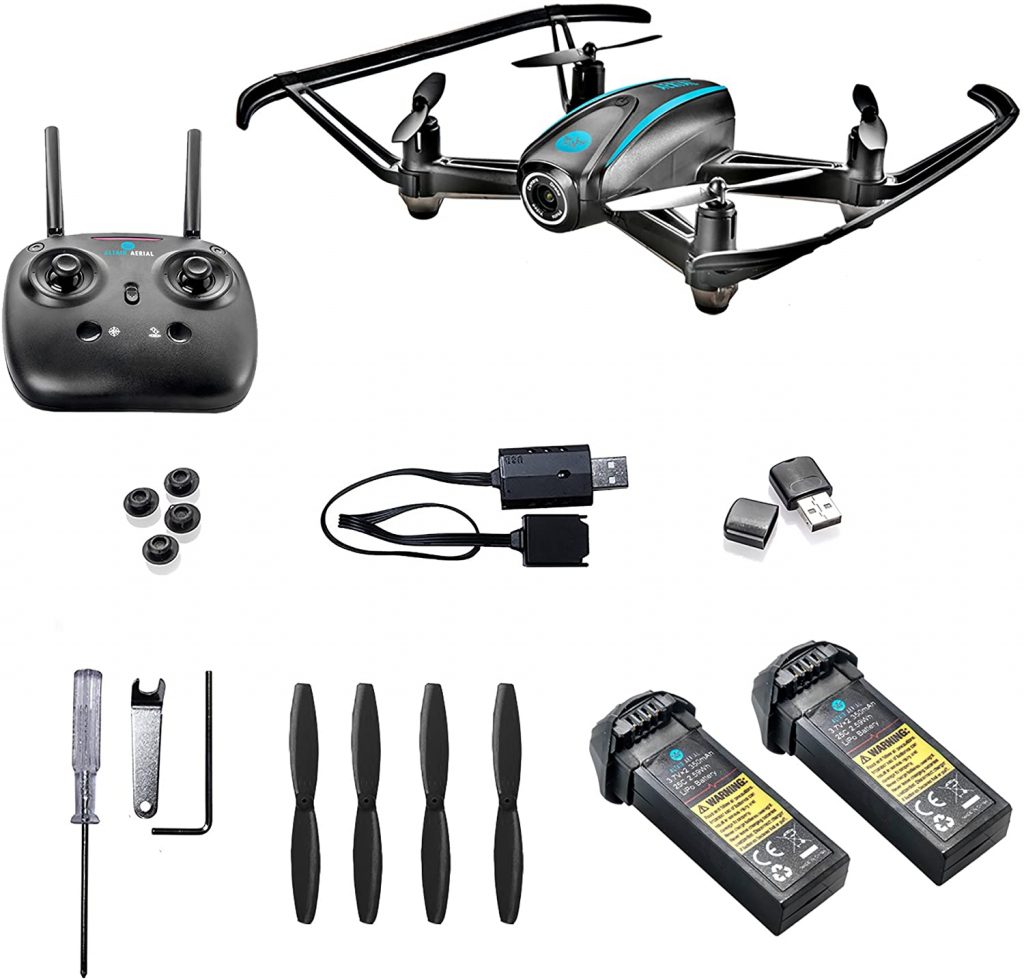 Camera
Altair Aerial AA108 comes with a reasonable 120 degree wide-angle 720p HD camera that takes fantastic photos and videos (bird's eye view) live on your phone. It is a great camera drone for kids, beginners, and professional pilots.
The data is stored in SD card, although the SD card is not included with the drone. This quadcopter can support up to 32 GB SD card.
Battery
The AA108 comes with an extra battery for a longer flight time. Since a single battery can last up to 10 minutes, so you can enjoy flying for around 20 minutes. The AA108 Aerial drone is perfect for all kinds of skills, from photography to recreational flying.
5: Simrex X11 – Upgraded GPS Drone Under 150
Key Features
1080p Full HD camera
22 minutes of flying time
Low battery auto return to home
Trajectory flight mode
Upgraded GPS
Dual controlling options
Altitude hold feature
Follow me mode
SIMREX is amongst the high-quality brands when it comes to quadcopters, and the X11 is loaded with some impressive features compared to what you find in most cheap drones.
Design
The Simrex X11 is a reasonably large-sized drone that weighs about 2.8 pounds. The drone requires a bit of assembling. However, it can be done easily by following the instruction manual.
The design is impressively robust and resembles professional grade drones. It is designed to protect its landing gear and camera in case of rough lading.
Features
This $150 Simrex X11 drone comes with some fantastic functions to add more thrill to your flying experience. The single key launching and landing and Headless mode functions are great for new drone pilots.
The Altitude hold feature is amazing if you wish to capture some still footage without the camera is shaky. The GPS connectivity, along with the auto-return, brings in more flight precision and safety since it minimizes the risk of losing your drone.
Remote Controller
The controller fits nicely in your palms and has easy to handle functions. It has a dedicated LCD screen on the remote that updates you with relevant flight information such as distance and battery status.
The controller also has a smartphone attachment, which makes it much more functional.
Camera
If you are aiming to buy a drone to brush up your aerial photography game without breaking your bank account, the SIMREX X11 is equipped with the best camera features.
It comes with a 1080p Full HD adjustable camera with a 108-degree FOV. It also facilitates FPV live video feed. Although it is not enough for professional quality images, the camera still manages to give decent quality output for learners.
The X11 by Simrex is equipped with a 2 axis gimbal, which brings in more stability.
Battery
The package includes a single Lithium battery that can run for a maximum of 22 minutes.
6: Holy Stone HS165 – Foldable GPS Drone Under 150 Dollars
Key Features
1080p HD camera
Pocket-sized foldable drone
Multiple speed options
Easy to fly
One key take-off and landing
Real-time live video feed
Return to home
Design your flying route
Holy Stone drones enjoy a consistent reputation for high quality, and the HS165 is one of the most impressive and best quadcopters under 150 dollars.
Design
The drone has a sleek, foldable design that weighs a little over 170 grams. That makes this pocket mini drone a very travel-friendly drone. The design is very solid and ensures impeccable crash resistance. The black color exterior with a satin finish makes it aesthetically appealing.
Transmitter
It is one of the most beginner-friendly drones with a very well-designed controller. The controller looks similar to gaming console controllers with well-labeled buttons and a great grip.
The smartphone attachment on the controller is another plus. That means that you can easily rest your smartphone on the controller when using the app to control the drone.
Features
The Holy Stone HS165 is one of the most well-loaded drones of the entire lot when it comes to flight features. It facilitates flight mode, orbit mode, tap flight, and automatic return-to-home flight mode.
The Tap Fly mode allows you to preset a custom path for your drone to fly and make it return to its origin. The auto return-to-home feature minimizes the risk of losing your drone if it goes out of range or the battery drains out.
Like most Holy Stone drones, the HS165 is a GPS enabled drone which brings in high precision during flights.
Camera
The HS165 comes with a 1080p camera with a 90-degree field view. Although the camera lacks a gimbal and adjustable angles, it still manages to produce a decent quality visual output.
It has a 5GHz fpv camera with a live long transmission range of an impressive 800 meters. It supports a memory card of up to 32GB, which is to be purchased additionally.
Battery
The battery runs for a maximum of 15 minutes, which is okay for a 150 dollar drone. The battery recharge time of 120 minutes could be improved slightly.
7: DBPOWER U818A – Best Aerial Photography Drone Under 150
Key Features
720p HD camera
Dual battery
Minimalistic design
FPV live video
Dual speed modes
One key take-off/landing
3D VR supported
12 months warranty
Design
The DBPOWER Drone U818A is a super light-weight drone with a very minimalistic design. It is made out of ABS quality plastic with LED lights attached to its rotors.
The lights add some aesthetics and functionality for night flying, but there is nothing too extravagant about the design itself. That being said, it is still a decent built for a 150 dollar drone.
Although the built is not very resistant to high winds, the package includes spare rotors in case of an accident. Other parts are easily and readily available in the market at very economical prices.
Remote Controller
Although the design of this DBPOWER drone is a bit of a let-down, the impressively designed controller compensates well for the shortcomings.
The controller box is strong and sturdy with well-labeled buttons and an LED screen. The controller can easily fit in your palms and provides a good grip, which is essential for new pilots.
Features
The drone supports a single button launching and landing, which is great for beginners. It comes with different speed settings, which you can use according to your flying proficiency.
The headless mode and altitude hold are another impressive addition that allows greater control and stability, especially if you wish to shoot aerial footage.
The drone is easy to connect to an app for an FPV experience. The app is easily available on both Android and iOS platforms. It also supports a 3D VR view, but you need to purchase a VR headset additionally.
Camera
Given that the U818A is one of the cheap drones, the addition of a 720p HD camera is quite impressive. The camera allows you to capture videos and images of reasonable quality and is great for those who wish to brush up their photography skills. However, do not expect professional-grade quality from this camera.
Battery
The drone comes with two 350mAh rechargeable batteries. Each battery can run for a maximum of 9 minutes, depending on wind conditions. That means you can have a maximum flight time of 18 minutes. The batteries take about 55 minutes to get fully recharged. It is advised to charge the battery with a computer USB port.
Key Features
Full HD 1080p camera
Live FPV video broadcast
Auto Return to home
GPS Follow me mode
Custom flight route
Auto Hover
Bright LED lights
Price less than $150
Design
The Holy Stone HS110G has a very professional look with a solid exterior and a jet black coating. Another attractive design feature is the stripe markers to let you identify the front and back of the drone. The drone is equipped with LED lights, which allow for night time flying.
Features
The HS110G is equipped with some of the best and impressive features for a drone for $150. GPS connectivity is one of the key features since it brings in both stability and precision. It helps in keeping your drone stable when you have to capture your footage and eliminates the risk of the drone by supporting the auto-return feature.
The Follow Me mode and Trajectory mode are some other intelligent flight modes that enhance your flying experience. There are multiple speed settings that you can choose according to your comfort and proficiency.
Transmitter
The controller has a very professional look and feels with nicely placed buttons. It offers greater functionality and handling experience than most other drones in the same league.
The controller also has a phone mount that can comfortably accommodate most smartphones for an FPV experience.
Camera
If good camera resolution at a reasonable price is the main purchase influencer for you, the HS110G is your best bet. It is a 1080p HD camera that gives excellent quality still images and video footage.
With a 110 degree filed view, this is an excellent option for those who are looking for a training drone to brush up their aerial photography skills.
Battery
The box contains a single 1500mAh battery that supports a flight time of 13 minutes and a maximum flight distance of 300 meters.
9: Snaptain SP500
Key Features
Full HD camera
30 minutes of flying time
Return to home
Follow me mode
Gesture control
Auto Hover
5G WiFi transmission
Draw your flying path
If you are looking for the best cheap drone under 150 dollars, but with a professional look and feel, the SP500 by SNAPTAIN is a great pick. This amazing drone has more than 500 5-Star reviews on Amazon. SNAPTAIN drones have become a user favorite thanks to its variety of functions and comparatively affordable prices.
Design
Despite being a budget drone, the built looks robust and aggressive. The jet black exterior makes it look aesthetically appealing and at par with any professional-grade drone.
The drone has a partially foldable design, but it still feels slightly bulky and weighs above 250 grams. That means that this drone will require you to register it with the FAA.
The drone requires a bit of assembling since the props need to be attached, but it is nothing too technical. The drone is equipped with bright LED lights for better navigation during night flying.
Features
The SNAPTAIN SP500 sports some brilliant flight features for a low-cost drone. This drone follows you automatically while recording video. The headless mode and auto-return feature make it beginner-friendly. The gesture control feature is a very cool addition that you rarely find on budget drones.
The tap-fly mode and orbit mode further enhance the flying experience. Furthermore, you can to easily upload your videos and pictures to social networks from your iPhone or iPad.
Camera
The camera is the key selling point of SP500, which makes it stand out amongst the lot. The 1080p Full HD camera has a 110-degree field view, which can be adjustable for up to 40 degrees. It has a memory card slot but lacks a gimbal for camera stability.
However, you can use the Altitude Hold feature for better stability. It supports live FPV video transmission with an excellent long-range of 800 feet.
Remote Controller
Unlike most other drones on the list, the SP500 has one of the sleekest controllers with a very futuristic and minimalistic design.
The buttons and sticks are highly responsive and easy to use. The controller has a smartphone mount that can comfortably accommodate most smartphones.
Battery
The SP500 comes with two modular batteries, and each battery supports a flight time of 15 minutes. That means you can double the flight time to 30 minutes.
Tips & Tricks
If you have never flown a drone before, it is recommended that you start your first flight on a day with little or no winds, so that you can get the hang of the controls.
Conclusion
Thanks to the technology trickling down, greater commercialization, and increased competitiveness, there is more variety and options available even in the budget drone segment.
However, it is usually to be able to find a drone that grades high in all major parameters such as camera, design, features, and battery. When making a purchase decision, prioritize your parameters and decide what feature is more relevant to you and which ones you can let go of so that you can make the right pick.
For example, if you are specifically buying a drone for aerial photography, go for an option that gives you the best camera features even if you have to compromise on a few flight modes.
Likewise, if photography is not your primary purpose, and you are a hobbyist, you might want to compromise on camera features and focus more on flight performance and features. Check out best drones without camera.